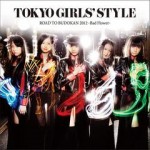 Tokyo Girls' Style's 11th single Road to Budokan 2012 ~Bad Flower~ will be released on October 17.
Each edition comes with a DVD featuring music videos, special movie, or concert footage, depending on its type.
The title refers to Tokyo Girls' Style's concert to be held at Budokan on December 22.
Type A
CD

Bad Flower
LolitA☆Strawberry in Summer
Discord
Bad Flower (Instrumental)
LolitA☆Strawberry in Summer (Instrumental)
Discord (Instrumental)
DVD

Bad Flower (Music Video)
LolitA☆Strawberry in Summer (Music Video)
Making of
Type B
CD

Bad Flower
LolitA☆Strawberry in Summer
Bad Flower (Instrumental)
LolitA☆Strawberry in Summer (Instrumental)
DVD

Odekake Movie (おでかけムービー(伊豆熱海編))
Type C
CD

Bad Flower
Discord
Bad Flower -Royal Mirrorball Mix-
Bad Flower (Instrumental)
Discord (Instrumental)
DVD

Concert*03 "Rock You!" Yori Live Eizou (Concert*03『Rock You!』よりLive映像) (Memai -TGS ver.- / Tsuioku -Single Version- / LolitA☆Strawberry in Summer
Bad Flower (Music Video)