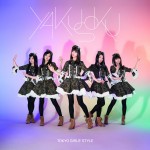 Tokyo Girls' Style's 3rd album Yakusoku (約束) will be released on January 30.
The album contains an English version of Himawari to Hoshikuzu (ヒマワリと星屑).
Type A includes a Blu-ray featuring all music videos and bonus video footage.
Type B comes with a DVD featuring 3 music videos, making-of, a special movie, and video of live performance.
Type A
CD

Intro
Bad Flower
Tsuioku -Single Version- (追憶 -Single Version-)
Discord (ディスコード)
Sore de Ii Jan (それでいいじゃん)
Taisetsu na Kotoba (大切な言葉)
Tsuki to Sayonara (月とサヨウナラ)
Maboroshi (幻)
Overnight Sensation ~時代はあなたに委ねてる~
Futari Kiri (ふたりきり)
LolitA☆Strawberry in Summer
Yakusoku (約束)
Outro
14. Himawari to Hoshikuzu -English Version- (ヒマワリと星屑 英語Ver.収録)
Blu-ray

Music Video

Kirari☆ (キラリ☆)
Onnaji Kimochi (おんなじキモチ)
Ganbatte Itsudatte Shinjiteru (頑張っていつだって信じてる)
Himawari to Hoshikuzu (ヒマワリと星屑)
Love Like Candy Floss
Kodou no Himitsu (鼓動の秘密)
Sayonara, Arigatou (サヨナラ、ありがとう。)
Limited Addiction
Liar
Rock You!
Tsuioku -Single Version- (追憶 -Single Version-)
LolitA☆Strawberry in Summer
Bad Flower

Special Movie
Type B
CD

Intro
Bad Flower
Tsuioku -Single Version- (追憶 -Single Version-)
Discord (ディスコード)
Sore de Ii Jan (それでいいじゃん)
Taisetsu na Kotoba (大切な言葉)
Tsuki to Sayonara (月とサヨウナラ)
Maboroshi (幻)
Overnight Sensation ~時代はあなたに委ねてる~
Futari Kiri (ふたりきり)
LolitA☆Strawberry in Summer
Yakusoku (約束)
Outro
14. Himawari to Hoshikuzu -English Version- (ヒマワリと星屑 英語Ver.収録)
DVD

Music Video

Tsuioku -Single Version- (追憶 -Single Version-)
LolitA☆Strawberry in Summer
Bad Flower

Making of Jacket (ジャケット撮影・メイキング映像)
Odekake Movie (おでかけムービー)
Live (9 Songs) (過去Live映像より9曲)
Type C
CD

Intro
Bad Flower
Tsuioku -Single Version- (追憶 -Single Version-)
Discord (ディスコード)
Sore de Ii Jan (それでいいじゃん)
Taisetsu na Kotoba (大切な言葉)
Tsuki to Sayonara (月とサヨウナラ)
Maboroshi (幻)
Overnight Sensation ~時代はあなたに委ねてる~
Futari Kiri (ふたりきり)
LolitA☆Strawberry in Summer
Yakusoku (約束)
Outro
Himawari to Hoshikuzu -English Version- (ヒマワリと星屑 英語Ver.収録)
Onnaji Kimochi (おんなじキモチ)
Tokyo Girls' Style – Yakusoku (Promotional Video)