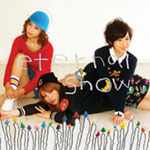 Trick8f's new album Eternal Show will be released on December 11.
This is the 2nd mini-album from Trick8f.
The CD contains 6 songs. The CM spot including audio samples has been released.
Moreover, Trick8f and their sister unit FantaRhyme will hold live events on December 10 in Fukuoka, and on December 20-22 in Tokyo.
Tracklist
Catch a Dream
Freeway to Saturday night
flow
Shalala♪
Canvas
Sankanshion no Hana (三寒四温の花)