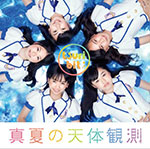 Tsuri Bit's new single Manatsu no Tentai Kansoku (真夏の天体観測) will be released on July 24.
2 regular editions are available. They have different versions of the cover : Idol Jacket (アイドルジャケット) for Type A and Angler Jacket (アイドルジャケット) for Type B.
The limited edition comes with a bonus DVD featuring the music video and bonus footage.
The coupling track is Tsuri Bit's debut digital single Start Dash! (スタートダッシュ!) which is on sale since May 22.
Tracklist
CD

Manatsu no Tentai Kansoku (真夏の天体観測)
Start Dash! (スタートダッシュ!)
Manatsu no Tentai Kansoku (真夏の天体観測) (Instrumental)
Start Dash! (スタートダッシュ!) (Instrumental)
DVD (Limited Edition)

Manatsu no Tentai Kansoku (真夏の天体観測) (Music Video)
Bonus Footage (特典映像)
Live & Music Video (PV)