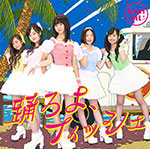 Tsuri Bit's new single Odoroyo, Fish (踊ろよ、フィッシュ) will be released on July 30.
This is the 4th single from Tsuri Bit.
It is a cover of a 80's song by Yamashita Tatsuro. It is a summer tune.
3 versions are available. The B-side track is different for each one of them.
The limited edition includes a bonus DVD with the music video.
This single comes with a ticket for a handshake event with the members of Tsuri Bit and an original trading card.
Tracklist
Limited Edition

CD

Odoroyo, Fish (踊ろよ、フィッシュ)
Renai Sensen Ijou Ari (恋愛戦線異常あり)
Odoroyo, Fish (踊ろよ、フィッシュ) (Instrumental)
Renai Sensen Ijou Ari (恋愛戦線異常あり) (Instrumental)

DVD

Odoroyo, Fish (踊ろよ、フィッシュ) (Music Video)
Type A

CD

Odoroyo, Fish (踊ろよ、フィッシュ)
Ramune Iro no Sketch (ラムネ色のスケッチ)
Odoroyo, Fish (踊ろよ、フィッシュ) (Instrumental)
Ramune Iro no Sketch (ラムネ色のスケッチ) (Instrumental)
Type B

CD

Odoroyo, Fish (踊ろよ、フィッシュ)
Water Drive
Odoroyo, Fish (踊ろよ、フィッシュ) (Instrumental)
Water Drive (Instrumental)