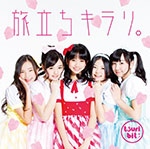 Tsuri Bit's new single Tabidachi Kirari (旅立ちキラリ。) will be released on March 26.
This is the 3rd single from Tsuri Bit. It was made in collaboration between the idol group and Mini-Stop (ミニストップ) convenience store franchise.
The MV has been released.
3 versions are available. The coupling song is different for each one of them.
The limited edition includes a DVD with the music video and bonus footage.
Tracklist
Type A

CD

Tabidachi Kirari (旅立ちキラリ。)
Koi no Magical Sweets ~Anata no Koi wo Kanaemasu~ (恋のマジカルスイーツ ~あなたの恋を叶えます~)
Tabidachi Kirari (旅立ちキラリ。) (Instrumental)
Koi no Magical Sweets ~Anata no Koi wo Kanaemasu~ (恋のマジカルスイーツ ~あなたの恋を叶えます~) (Instrumental)
Type B

CD

Tabidachi Kirari (旅立ちキラリ。)
Sushi Paradise (寿司パラダイス)
Tabidachi Kirari (旅立ちキラリ。) (Instrumental)
Sushi Paradise (寿司パラダイス) (はじめのキモチ) (Instrumental)
Limited Edition

CD

Tabidachi Kirari (旅立ちキラリ。)
Hajime no Kimochi (はじめのキモチ)
Tabidachi Kirari (旅立ちキラリ。) (Instrumental)
Hajime no Kimochi (はじめのキモチ) (Instrumental)

DVD
Music Video (PV)