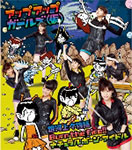 Up Up Girls' new single Ginga Joujou Monogatari / Burn the Fire!! / Natural Born Idol (銀河上々物語/Burn the fire!!/ナチュラルボーン・アイドル) will be released on June 5.
This is a triple A-side single. It contains 3 songs and their instrumental versions.
It will be Up Up Girls' 5th single under T-Palette Records label.
The songs were written by Nobe and composed by Michitomo.
Tracklist
Ginga Joujou Monogatari (銀河上々物語)
Burn the Fire!!
Natural Born Idol (ナチュラルボーン・アイドル)
Ginga Joujou Monogatari (銀河上々物語) (Instrumental)
Burn the Fire!! (Instrumental)
Natural Born Idol (ナチュラルボーン・アイドル) (Instrumental)
Video (Live)