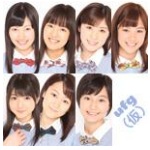 During their last live at Daikanyama, Up Up Girls announced that they are going to sign with T-Palette Records.
T-Palette Records is an indie label specializing in idols. It is owned by Tower Records.
The other idols units currently under contract with this label are : Vanilla Beans, Negicco, LinQ, Lyrical School, Shizukaze and Kizuna.