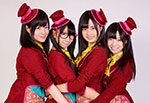 White Milk (ほわいと☆Milk) is a Japanese idol group formed in 2012. It currently consists of 4 members.
White Milk is part of Alice Project. It is a sub-unit of Steamgirls and Oz.
Tsukumiya Karen, Kurose Sara, and Araya Satsuki are also members of Steamgirls, whereas Sato Nanase belongs to Oz.
They perform regularly at P.A.R.M.S. Theater in Akihabara in Tokyo.
Profile
White Milk (ほわいと☆Milk)
Years active : 2012 – present
Label : –
Agency : Kleeblatt
Members
Sato Nanase (佐藤七彩)
Tsukimiya Karen (月宮かれん)
Kurose Sara (黒瀬サラ)
Araya Satsuki (新矢皐月)
Discography
Singles
Gerokko Kyurun (下呂っこ☆きゅるん)
Mira wa Ima (未来は今)
Kabu Rakatabu Love (かぶラカタブLove)
Albums
Links
News