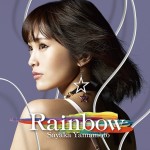 NMB48 leader Yamamoto Sayaka will make her solo debut with her album Rainbow.
It will be released on October 26.
The short version of the music video for Yuki Koi was unveiled.
Most of the songs were written by Sayanee herself and Kameda Seiji, who was also charged to compose and arrange music for the album.
The album was released in two versions: a limited CD+DVD edition and a regular CD-only edition.
The DVD will contain the music video with bonus videos.
Yamamoto Sayaka has also opened her own official website and youtube channel.
Tracklist
CD

Rainbow Rose (レインボーローズ)
Yuki Koi (雪恋)
Hito Koto (ヒトコト)
Kanojo ni Naritai (彼女になりたい)
Ai no Baton (愛のバトン)
BADDAYS
Tsuki Kage (月影)
Smile (スマイル)
Kokoro no Tate (心の盾)
Hitoikitsuki Nagara (ひといきつきながら)
Gimonfu (疑問符)
Shiawase no Kakera (幸せの欠片)
Melody (メロディ)
DVD

Yuki Koi (Music Video)
Rainbow Rose
Album Rainbow Making
Music Video (PV)