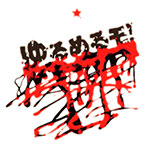 The new album of You'll Melt More! (Yurumerumo!) SUImin CIty DEstroyer (SUI.CI.DE) will be released on December 31.
This is the 4th EP of the idol group and its first after the Yuizarasu graduation in August. As can be noted on the album title, letters of the title written in capital letters make another common word "SUICIDE". The albums songs are called "suicide songs".
The tracklist was unveiled. It contains 8 tracks overall : 4 original songs and their instrumental versions. One edition will be available.
Tracklist
Nemutai CITY vs Dokusho Nikki (眠たいCITY vs 読書日記)
Ha ga nai Hi (波がない日)
Meruhen (メルヘン)
NNN
Nemutai CITY vs Dokusho Nikki (instrumental)
Ha ga nai Hi (instrumental)
Meruhen (instrumental)
NNN (instrumental)