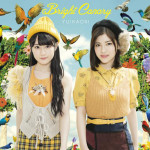 YuiKaori's 3rd album Bright Canary will be released on November 4th.
The MV for their new song Canaria (カナリア) has been unveiled.
The music video emphasizes the symetry and the synchornism of the dance choreography of Ogura Yui and Ishihara Kaori.
The album contains 12 songs including YuiKaori's latest singles, and solo songs by Ishihara Kaori and Ogura Yui.
The DVD and Blu-ray versions come with a mini photobook.
In addition, YuiKaori 3rd Live Tour Rainbow Canary will be held from December 23, 2015 to January 3, 2016. Concerts are scheduled in Osaka, Nagoya and Yokohama.
Tracklist
CD

Baisoku ∞ Love Straight (倍速∞ラブストレート)
Ring Ring Rainbow!!
Canaria (カナリア)
Telephone Call / Ishihara Kaori
Liar Sheep (ライアーシープ) / Ogura Yui
New World
Lucky Ducky!!
Orion Kara Message (オリオンからのメッセージ)
Intro Situation
Rainy Day
Neo Signalife
Billion-Carat
DVD / Blu-ray

Canaria (Music Video)
Lucky Ducky!! (Music Video)
Intro Situation (Music Video)
Neo Signalife (Music Video)
Ring Ring Rainbow!! (Music Video)
Making of Bright Canary
Music Video (PV)