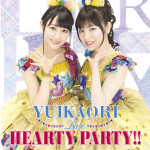 YuiKaori Live Hearty Party!! will be released on DVD and Blu-ray on June 3.
The concert was held on December 7, 2014 at Makuhari Messe, Chiba. This event was part of YuiKaori 2nd Live Tour Hearty Party.
The idol duo performed 19 songs including solo versions by Ogura Yui and Ishihara Kaori.
The trailer movie and the making short version have been unveiled.
The DVD and the Blu-ray includes bonus videos such as challenges, making-of and commentary by the members of the idol group.
Furthermore, YuiKaori's new single Ring Ring Rainbow!! will be on sale on August 5. It will be the opening theme song for the anime Joukamachi no Dandelion (城下町のダンデライオン) which will start airing on TBS in July.
Setlist
PUPPY LOVE!!
Wake Up!! (ウェィカッ!!)
-MC 1-
Our Song
Shooting☆Smile
Intro Situation
-Short Movie"パジャマPARTY"-
Tinkling Smile (小倉 唯)
-MC (Ogura Yui)-
Hatsukoi Maze (ハツコイメイズ) *Sugar time ver. (Ogura Yui)
Sunny Ray Beam!! (Ishihara Kaori)
-MC (Ishihara Kaori)-
Shiny Blue *Right on! Dream ver. (Ishihara Kaori)
-Short Movie "PARTY PRESENT"-
-MC 2-
Futari (ふたり)
Koi Suru Stall.(恋するストール)
-Short Movie "DANCING PARTY"-
VIVIVID PARTY!
MIRRORING DESIGNS
Attouteki na Go!! (圧倒的な GO!!)
-MC 3-
NEO SIGNALIFE
Our Steady Boy
LUCKY DUCKY!!
<Encore>
-MC 4-
Jumpin' Bunny Flash!!
Hoshi Furu Yoru no Happy Link (星降る夜のハッピーリンク)
-Epilogue-
Video