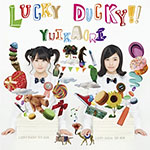 YuiKaori's new single Lucky Ducky!! will be released on April 9.
YuiKaori is an idol group consisting of Ogura Yui and Ishihara Kaori.
The MV has been released.
The single is produced by Monaca.
On the cover, the members of YuiKaori are surrounded by confectionery, toys and accessories.
2 versions are available. The limited edition includes a bonus DVD with the music video and making-of footage.
Moreover, YuiKaori will hold a live performance titled Lucky Tunes!! on May 24 at Differ Ariake in Tokyo.
Tracklist
CD

Lucky Ducky!!
Koi Suru Stall (恋するストール)
Lucky Ducky!! (Instrumental)
Koi Suru Stall (恋するストール) (Instrumental)
DVD

Lucky Ducky!! (Music Video)
Lucky Ducky!! (Making-of)
Music Video (PV)