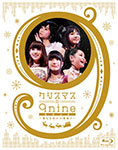 9nine's live Christmas no 9nine 2012 ~Seinaru Yoru no Daisoudou~ (クリスマスの9nine 2012〜聖なる夜の大奏動♪〜) will be released on DVD and Blu-ray on April 24.
The DVD and the Blu-ray contain the 18 songs performed during the concert.
They also include a documentary on 9nine's Shucchou! Zenkoku Live House Hao Hao! Tour 2012 (出張!全国ライブハウス好好!ツアー 2012) and backstage footage of Christmas no 9nine 2012 as bonus videos.
The concert was held at Akasaka Blitz, Tokyo, on December 14, 2012.
Setlist
Shoujo Traveler (少女トラベラー)
Material World (マテリアルワールド)
9nine o'clock
Iiaru! Kyonshi feat. Hao Hao! Kyonshi Girl (イーアル!キョンシー feat.好好!キョンシーガール)
Ikeru, Ikeru! (いける、いける!)
Angel Drops
Brave
Monochrome (モノクロ)
Darling, Darling (ダーリン、ダーリン)
Wonderful World
Chiku Taku 2nite (チクタク☆2Nite)
#girls
Konwaku Confuse (困惑コンフューズ)
Cross Over
White Wishes
Romantic Moon
Ryuusei no Kuchizuke (流星のくちづけ)
Shining☆Star
Bonus footage

"9nine no Shucchou! Zenkoku Live House Hao Hao! Tour 2012" Documentary (9nine"初"の全国ライブハウスツアー『出張 ! 全国ライブハウス好好 ! ツアー 2012』 ~ドキュメント編~)
"Christmas no 9nine 2012 ~Seinaru Yoru no Daisoudou~" Backstage Footage (『クリスマスの9nine 2012~聖なる夜の大奏動♪~』 ~バックステージ編~)