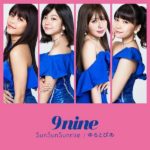 The new single of 9nine was revealed !
It will be called SunSunSunrise / Yurutopia (SunSunSunrise/ゆるとぴあ) and will be released on August 16th.
The single was produced by Trevor Horn.
The SunSunSunrise song is the theme of Stan Lee's animated film, The Reflection !, a film in which the members of 9nine participated as voice actresses.