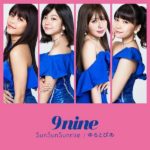 The new single of 9nine was revealed !
It will be called SunSunSunrise / Yurutopia (SunSunSunrise/ゆるとぴあ) and will be released on August 16th.
The single was produced by Trevor Horn.
The SunSunSunrise song is the theme of Stan Lee's animated film, The Reflection !, a film in which the members of 9nine participated as voice actresses.
The short version of the MV for SunSunSunrise was unveiled.
The single will be sold several editions.
Furthermore, the 9nines appeared at the Tokyo Idol Festival 2017 and @JAM EXPO 2017 in last July and early August. They will perform at the Nakano Sun Plaza at the concert 9nine Summer Live 2017 Excelsior!! on 26 August.
Tracklist
CD

SunSunSunrise
Yurutopia (ゆるとぴあ)
Que Sera Seraph (ケセラセラヴ)
SunSunSunrise (Instrumental)
Yurutopia (Instrumental)
Que Sera Seraph (Instrumental)
Limited Edition DVD

SunSunSunreise (Music Video)
Limited Edition (Illustration) DVD

SunSunSunrise (Animation "The Reflection" Insert ver.)
SunSunSunrise (Animation "The Reflection" Non Credit Ending Picture)
Music Video (PV)