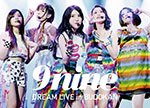 9nine Dream Live in Budokan will be released on DVD and Blu-ray on June 17.
It was the first concert of 9nine at this famous venue in Tokyo. The event was held on August 21, 2014.
The girls performed 26 songs including their greatest hits.
The DVD and the Blu-ray include backstage footage.
Furthermore, the idol group's new single Happy 7 Days will go on sale on the same day.
9nine Live Circuit 2015 will take place from April 29 to July 18.
Setlist
With You / With Me
out of the blue
Evolution No.9
The Magi9al Fes.
#girls
Forget-U-not
Love Vampire
(Luv=)0or H8?
Atashi≒Watashi
Shiroi Hana (白い華)
Sky
Hikari no Kage (ヒカリノカゲ)
Cross Over
Ryuusei no Kuchizuke (流星のくちづけ)
Algorithm+Love
Monochrome (モノクロ)
NeXT to FUTURE
9uestions
Re:
Shoujo Traveler (少女トラベラー)
Konwaku Confuse (困惑コンフューズ)
9nine o'clock
Party9
colorful
Tsuzuku Tsuzuku… (つづくつづく…)
Shining☆Star
Bonus Video

"9nine Dream Live in Budokan" Off Shot Movie