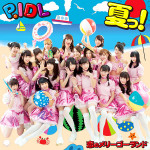 P.IDL's new single Natsu! (夏っ!) will be released on June 3.
This is the 4th single from P.IDL. The name of the group stands for Performance IDol League.
The MV and the covers have been unveiled. The theme is summer. It features the girls having fun on the beach.
4 editions will be on sale, including special ones featuring members from Team P & I and Team D & L. The track listing is the same for each CD.
Tracklist
CD

Natsu! (夏っ!)
Koi no Merry-go-round (恋のメリーゴーランド)
Koi no Merry-go-round (Instrumental)
Natsu! (Instrumental)
Music Video (PV)