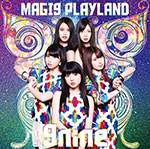 9nine's new album Magi9 Playland will be released on June 18.
The title is pronounced "magic playland".
The album contains 16 songs including 9nine's latest singles Re:, Evolution No.9 and With You / With Me.
It has a psychedelic and colorful cover artwork on the theme of "galaxy" and "universe".
The trailer and the MV for Love Vampire and With You / With Me have been released. However these videos are restricted to some countries.
3 editions are available.
Type A includes a bonus DVD with 3 music videos and footage of 「Perfume FES!! 2014」"Perfume × 9nine" Special Collaboration Live.
9nine member Nishiwaki Sayaka is the younger sister of Perfume's Nishiwaki Ayaka.
Type B comes with a photo booklet.
Furthermore, 9nine will hold their first concert at Nippon Budokan in Tokyo on August 21, 2014.
Tracklist
CD

Re:
Forget-U-not
With You / With Me
THE MAGI9AL FES.
out of the blue
9uestions
ATASHI≒WATASHI
NeXT to FUTURE
LOVE VAMPIRE
To be continued…
【fu:】
D.N.A.
Evolution No.9
ALGORITHM+LOVE
Prism Drops & Falls
– Bonus Track –
With You / With Me (Album Ver.)
DVD (Type A)

Music Video

Evolution No.9
Re:
With You / With Me

「Perfume FES!! 2014」"Perfume × 9nine" Special Collaboration Live

スパイス
SHINING☆STAR
Puppy love(1Chorus)
Music Video (PV) & Trailer