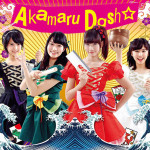 Akamaru Dash☆ (赤マルダッシュ☆) is a Japanese idol formed in August 2013.
It currently consists of 3 members. Each one has been assigned a color.
The leader is Kitazawa Marika.
Biography / History
The idol unit is produced by singer and actor Takeda Tetsuya. He is associated with songwriter Hyadain and choreographer Papaya Suzuki on this project.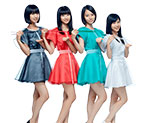 The theme is Japanese food. The girls appear in commercials for Maruchan (マルちゃん) ramen noodles by the company Toyo Suisan Kaisha (東洋水産株式会社) since September 2013.
The radio show Akamaru Dash☆ Honki, Dashimasu (赤マルダッシュ☆ 本気、ダシます) aired on Nippon Broadcasting System from October 2013 to March 2014.
Akamaru Dash☆ made their major debut in October 2014 with the single Tabete, Waratte, Ikite Iku (食べて、笑って、生きていく。) released under Nippon Columbia label.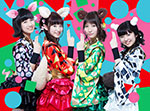 Their 2nd single Wonderful Smile (ワンダフル☆スマイル) went on sale in April 2015. It was the ending theme song for Pop Parade show on tvk in March. For this occasion, Kitagawa Marika won a popularity contest between the members of the idol group.
The girls hosted the show Akamaru Dash☆ no Tameshi ni Ippai Meshiagare!!! (赤マルダッシュ☆の試しにいっぱい召し上がれ!!!) on Radio Nippon from April 2015 to September 2016.
The idol group participated in J-Pop Signature × J-Music Lab 2015 in Bangkok in Thailand in November 2015. This event was their fist overseas live performance.
In January 2016, the girls appeared in a commercial for Maru-chan Akai Kitsune and Midori no Tanuki cup noodles. The CM song was their 3rd single Another You (アナザーユー).
Akamaru Dash☆ 1st one-man live was held in March 2016 at Shibuya WWW, Tokyo.
Tamashiro Mari announced her graduation in September 2016.
Profile
Akamaru Dash

☆

(

赤マルダッシュ☆

)
Years active : 2013 – present
Label : Nippon Columbia
Agency : Oscar Promotion
Members
Kitazawa Marika (北澤鞠佳) – Red
Kawamura Ayaka (川村彩花) – Black
Onishi Nayu (大西菜友) – White
Former Members
Tamashiro Mari (玉城茉里) – Green
Discography
Singles
22/10/2014 : Tabete, Waratte, Ikite Iku (食べて、笑って、生きていく。)
01/04/2015 : Wonderful Smile (ワンダフル☆スマイル)
10/02/2016 : Another You (アナザーユー)
Albums
Links
News