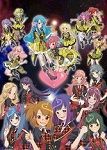 AKB0048 Vol.5 DVD and blu-ray starring AKB48, NMB48, SKE48 will be released on October 31.
This is the 5th release of AKB0048 anime TV series based on the popular AKB48 idol group. It was produced by Satelight Studio, directed Kawamori Shoji (Macross series) and characters designed by Ebata Risa (Macross F).
The DVD and blu-ray versions include episodes 11 to 13, a booklet (16 pages), bonus video footage and audio commentary.
DVD & Blu-ray
Tracklisting

AKB0048 Stage 11 : Lancaster Futatabi (AKB0048 Stage 11 ランカスター再び)
AKB0048 Stage 12 : Ai o Utau Aidoru (AKB0048 Stage 12 愛
AKB0048 Stage 13 : Egao no Tame ni (AKB0048 Stage 13 笑顔のために)