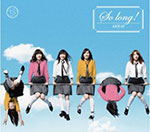 AKB48's 30th single So Long! will be released on February 20.
The types A, B and K include a bonus DVD featuring music videos and 25 minutes of footage from the 2nd AKB48 Kouhaku Taikou Uta Gassen (第2回 AKB48紅白対抗歌合戦).
The 3rd song is different for each version of the single.
The limited editions include a ticket for a handshake event.
A 3-episode drama will be aired on NTV (Nippon Television) in February to promote the single.
Type A
CD

So Long!
Waiting Room (Under Girls) (アンダーガールズ)
Ruby (Shinoda Team A) (篠田Team A)
So Long! (Instrumental)
Waiting Room (Under Girls) (アンダーガールズ) (Instrumental)
Ruby (Shinoda Team A) (篠田Team A) (Instrumental)
DVD

So Long! (Music Video)
Waiting Room (Under Girls) (アンダーガールズ) (Music Video)
Ruby (Shinoda Team A) (篠田Team A) (Music Video)
2nd AKB48 Kouhaku Taikou Uta Gassen ~Compilation~ (第2回 AKB48紅白対抗歌合戦 ~総集編~)
Type K
CD

So Long!
Waiting Room (Under Girls) (アンダーガールズ)
Yuuhi Marie (Oshima Team K) (夕陽マリー / 大島Team K)
So Long! (Instrumental)
Waiting Room (Under Girls) (アンダーガールズ) (Instrumental)
Yuuhi Marie (Oshima Team K) (夕陽マリー / 大島Team K) (Instrumental)
DVD

So Long! (Music Video)
Waiting Room (Under Girls) (アンダーガールズ) (Music Video)
Yuuhi Marie (Oshima Team K) (夕陽マリー / 大島Team K) (Music Video)
2nd AKB48 Kouhaku Taikou Uta Gassen ~Akagumi Digest~ (第2回 AKB48紅白対抗歌合戦 ~紅組ダイジェスト~)
Type B
CD

So Long!
Waiting Room (Under Girls) (アンダーガールズ)
Sokode Inu no Unchi Fun Jau ka ne? (Umeda Team B) (そこで犬のうんち踏んじゃうかね? / 梅田Team B)
So Long! (Instrumental)
Waiting Room (Under Girls) (アンダーガールズ) (Instrumental)
Sokode Inu no Unchi Fun Jau ka ne? (Umeda Team B) (そこで犬のうんち踏んじゃうかね? / 梅田Team B) (Instrumental)
DVD

So Long! (Music Video)
Waiting Room (Under Girls) (アンダーガールズ) (Music Video)
Sokode Inu no Unchi Fun Jau ka ne? (Umeda Team B) (そこで犬のうんち踏んじゃうかね? / 梅田Team B) (Music Video)
2nd AKB48 Kouhaku Taikou Uta Gassen ~Shirogumi Digest~ (第2回 AKB48紅白対抗歌合戦 ~白組ダイジェスト~)
Sugar Rush (Music Video)