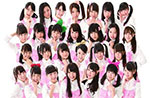 Allover is a Japanese idol group formed in 2012.
It consists of members selected from the local idol groups asfi, Candy Go! Go!, Nato☆Kan, Cover's Doll, Honey Squash, Idol Farm, Idol College, Try☆Fing, Kaiketsu Tropical Maru.
Alice Juban, Starmarie, Pastel☆Joker, Pop'n Kiss, DokiDoki☆Dream Campus, Anna☆S, Smile☆Pocket, Heart & Cupid , AsoBit☆Girls, et les Idol Collection have also participated in the project in the past.
Allover is divided into Team α (alpha), Team β (beta), Team γ (gamma), and Team δ (delta).
The unit is produced by DJ Mocchi and Marushita Fumihiro. Nishida Issei is the choreographer.
Allover holds live performances every Thursday at TwinBox Akihabara in Tokyo.
Profile
Allover (オールオーバー)
Years active : 2012 – present
Label : Full Moon
Agency : Akiba Kobo Allover Project
Members
Team α (alpha)
Sekine Yumi (関根ゆみ) (Candy Go! Go!)
Watase Jun (渡瀬純) (asfi)
Team β (beta)
Akizuki Yume (秋月ゆめ) (ex DokiDoki☆Dream Campus)
Endo Haruka (遠藤遥) (Nato☆Kan)
Konno Kasumi (今野香純) (Cover's Doll)
Aihara Saki (相原咲)
Nakayama Serina (中山瀬梨奈)
Futaba Riko (双葉璃子) (ex DokiDoki☆Dream Campus)
Team γ (gamma)
Kariyama Kyoko (可鈴山京子) (Honey Squash)
Tokoi Yuki (常井侑紀) (Honey Squash)
Katase Satsuki (片瀬咲月) (Honey Squash)
Kato Arisa (加藤ありさ) (ex AsoBit☆Girls)
Aoi Natsumi (葵なつみ) (asfi)
Hoshino Saki (星野沙季) (ex Idol Collection)
Onuma Mina (小沼美菜) (ex Idol Collection)
Aizawa Nao (藍沢菜生) (Idol Farm)
Team δ (delta)
Isshiki Kyoko (一色杏子) (Super Lips)
Inaba Misaki (稲葉美咲) (Idol College)
Uetake Yua (植竹優亜) (Try☆Fing)
Enta Haruka (円田はるか) (Candy Go! Go!)
Konishi Yuna (小西ゆな) (Idol Farm)
Matsushita Ai (松下愛) (Try☆Fing)
Matsushita Erika (松下恵里香) (Kaiketsu! Tropical Maru)
Misaki Mayu (みさきまゆ) (Super Lips)
Support
Ohba Chihiro (大場千尋)
Saida Marin (彩田真鈴)
Natsui Miku (夏井みく)
Former Members
Kiritani Mao (桐谷真央) (Alice Juban)
Yamaguchi Mana (Pastel☆Joker)
Shirai Moeka (白井萌花) (Pop'n Kiss)
Asaoka Akane (朝丘朱音) (asfi)
Takamori Shino (高森紫乃) (Starmarie)
Kishita Nozomie (木下望) (Starmarie)
Aoki Shiori (青木栞) (Starmarie)
Izumisawa Ayane (泉沢紋音) (Candy Go! Go!)
Nanase Izumi (七瀬いづみ) (asfi)
Ozora Mau (大空舞) (DokiDoki☆Dream Campus)
Himekawa Reona (姫川れおな)
Ueno Miyuki (上野美雪) (Nato☆Kan)
Koike Anna (小池安奈) (Anna☆S)
Koike Yuuna (小池優奈) (Anna☆S)
Yanagisawa Ayano (柳沢あやの) (Smile☆Pocket)
Kunitake Narumi (國武成美) (Nato☆Kan)
Hiragi Rio (柊木りお) (Heart & Cupid)
Discography
Singles
18/07/2012 : Yume no Tobira (夢のトビラ)
31/10/2012 : Inazuma Lovely (イナズマ♥ラブリー)
20/02/2013 : Tatakai wa Korekara (戦いはこれから)
31/07/2013 : Sekai de Ichiban Natsu ga Suki (世界でイチバン夏が好き)
26/02/2014 : Sakura BaBy Love (桜BaByラブ)
Albums
Links
News