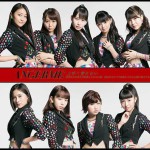 The new single of ANGERME entitiled Umaku Ienai / Ai no Tame Kyou Made Shinkashite Kita Ningen, Ai no Tame Subete Taikashita Ningen / Wasurete Ageru (上手く言えない/愛のため今日まで進化してきた人間 愛のためすべて退化した人間/忘れてあげる) will be on sale on October 19.
It contains a triple A-side.
The MV has been unveiled.
A new member will make her appearance on this single Kasahara Momona (aged 12). she was promoted as a new member last July during the Hello! Project Summer Tour. This announcement was a surprise for the fans. Kasahara Momona is a 5th generation member of the idol group.
It will be released in 3 limited editions (CD+DVD) A, B, C, and 3 regular editions (CD Only) also named A, B, and C. The limited editions will come with an event lottery serial number card enclosed. A special box set will be also released, including all versions of the single and a chance to attend one of four types of events.
Tracklist
CD

Umaku Ienai (上手く言えない)
Ai no Tame Kyou Made Shinkashite Kita Ningen, Ai no Tame Subete Taikashita Ningen (愛のため今日まで進化してきた人間 愛のためすべて退化した人間)
Wasurete Ageru (忘れてあげる
Umaku Ienai (Instrumental)
Ai no Tame Kyou Made Shinkashite Kita Ningen, Ai no Tame Subete Taikashita Ningen (Instrumental)
Wasurete Ageru (Instrumental)
Limited Edition A DVD

Umaku Ienai (Music Video)
Limited Edition B DVD

Ai no Tame Kyou Made Shinkashite Kita Ningen, Ai no Tame Subete Taikashita Ningen (Music Video)
Limited Edition C DVD

Wasurete Ageru (Music Video)
Music Video (PV)