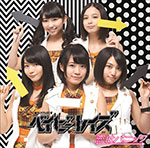 Babyraids' new single Koi wa Panic (恋はパニック) will be released on January 29.
This is the 6th single from Babyraids. 3 editions are available.
Koi wa Panic (恋はパニック) is the continuation of their previous single Koyomi no Ue deha December (暦の上ではディセンバー).
The MV has been released.
The coupling song Atarashii Sekai (新しい世界) was written and produced by Anno Yuta (Hawaiian6).
The limited editions include a bonus track. They come with a DVD featuring the music video and bonus footage.
Moreover, the DVD of the concert Babyraids Densetsu no Live! Kogun Funtou (ベイビーレイズ伝説の雷舞!-虎軍奮闘) will go on sale on December 18.
Babyraids Tour 2013 ~Koketsu ni Irazunba Tora Gaa wo Ezu~ (~虎穴に入らずんば虎ガーを得ず~) is being held from October 13 to December 15.
Regular Edition
CD

Koi wa Panic (恋はパニック)
Atarashii Sekai (新しい世界)
Koi wa Panic (Instrumental)
Atarashii Sekai (新しい世界) (Instrumental)
Type A
CD

Koi wa Panic (恋はパニック)
Atarashii Sekai (新しい世界)
Big Star! (ビッグ☆スター!)
Koi wa Panic (Instrumental)
Atarashii Sekai (新しい世界) (Instrumental)
Big Star! (ビッグ☆スター!) (Instrumental)
DVD

Koi wa Panic (恋はパニック) (Music Video)
Toranomon Retsuden ~Debut 1st Anniversary Tora Odoshi Hen~ (虎ノ門列伝 ~デビュー1周年 虎威編~)
Koi wa Panic (恋はパニック) (Jacket Making-of)
Type B
CD

Koi wa Panic (恋はパニック)
Atarashii Sekai (新しい世界)
Gate of the Tiger ~Zenryaku, Tora no Mon Yori~ (ゲート・オブ・ザ・タイガー ~前略、虎ノ門より~)
Koi wa Panic (Instrumental)
Atarashii Sekai (新しい世界) (Instrumental)
Gate of the Tiger ~Zenryaku, Tora no Mon Yori~ (ゲート・オブ・ザ・タイガー ~前略、虎ノ門より~) (Instrumental)
DVD

Koi wa Panic (恋はパニック) (Music Video)
Koi wa Panic (恋はパニック) (Dance Ver.)
Toranomon Retsuden ~Toranomon High School Hen~ (虎ノ門列伝 ~虎ノ門ハイスクール編~)
Koi wa Panic (恋はパニック) (Making-of)
Music Video (PV)