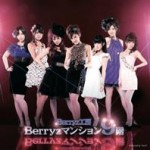 Berryz Kōbō's 9th album Berryz Mansion 9 Kai (Berryzマンション9階) will be released on January 30.
The album includes Berryz Kōbō's latest singles Be Genki , Cha Cha Sing, and Want!. It also contains a cover of Anata Nashi de Ikite Yukenai and a remix of Momochi! Yurushite Nyan♡Taisou.
The limited edition comes with a bonus DVD featuring music videos, making-of, and special footage.
Regular Edition
CD

Succha Ka Meccha Ka (すっちゃかめっちゃか~)
Want!
Otokomae (男前)
Nandakanda de Yoi Kanji! (なんだかんだで良い感じ!)
Koi Itoshiki Kisetsu (恋 いとしき季節)
Be Genki(Be 元気)
Massugu na Watashi (まっすぐな私)
Cha Cha Sing
Anata Nashi de Ikite Yukenai (あなたなしでは生きてゆけない) (2013 Version)
Momochi! Yurushite Nyan♡Taisou (Yurusanyai Remix) (ももち!許してにゃん♡体操 (許さにゃい Remix))
Limited Edition
CD

Succha Ka Meccha Ka (すっちゃかめっちゃか~)
Want!
Otokomae (男前)
Nandakanda de Yoi Kanji! (なんだかんだで良い感じ!)
Koi Itoshiki Kisetsu (恋 いとしき季節)
Be Genki(Be 元気)
Massugu na Watashi (まっすぐな私)
Cha Cha Sing
Anata Nashi de Ikite Yukenai (あなたなしでは生きてゆけない) (2013 Version)
Momochi! Yurushite Nyan♡Taisou (Yurusanyai Remix) (ももち!許してにゃん♡体操 (許さにゃい Remix))
DVD

Making-of the Album Cover (アルバムジャケット撮影メイキング映像)
?? (Shimizu Saki Ver.)
?? (Tsugunaga Momoko Ver.)
?? (Tokunaga Chinami Ver.)
?? (Sudo Maasa Ver.)
?? (Natsuyaki Miyabi Ver.)
?? (Kumai Yurina Ver.)
?? (Sugaya Risako Ver.)
Cha Cha Sing (Flash Mob Ver.)
Cha Cha Sing (Making-of Flash Mob)
Unreleased footage during trip to Thailand (訪タイ時未公開映像)
Momochi! Yurushite Nyan♡Taisou (ももち!許してにゃん♡体操) (Making-of)