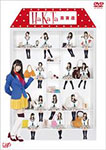 The DVD box set of HKT48's variety show HaKaTa Hyakkaten (HaKaTa百貨店) hosted by Sashihara Rino will be released on April 19.
HaKaTa Hyakkaten is broadcast since October 2012 on Nippon Television (日本テレビ). Every week, a member of AKB48 participates in the TV show as guest. She has to choose their "oshimen" among the members of HKT48 who are facing various challenges.
The aim of this program is to introduce HKT48 to general public.
The DVD box set contains a bonus disc featuring making-of, unreleased scenes, catalog of HaKaTa Hyakkaten, an evaluation meeting of HKT48 members, and more.
The limited edition includes a booklet, introduction cards of HKT48 members, and an original paper bag.
In addition, Season 2 of the TV will be on sale on September 18.