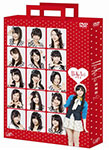 HKT48's variety show HaKaTa Hyakkaten 2 (HaKaTa百貨店2号館) will be released on DVD on September 18.
The program is presented by Sashihara Rino.
Some members from AKB48 (Ichikawa Miori, Shimada Haruka, Umeda Ayaka, Kasai Tomomi, Oba Mina), SKE48 (Matsui Rena, Matsui Jurina), and Nogizaka46 (Ikoma Rina) participated in this 2nd season of HaKaTa Hyakkaten as guests.
They had to choose their "oshimen" among the members of HKT48 who were facing various challenges.
HaKaTa Hyakkaten 2 was broadcast weekly on Nippon Television Nework (日本テレビ) from to January 26 to March 30.
The DVD box set features 4 discs, including the 8 episodes of the show, a making-of, and other bonus footage.
In addition, Season 1 of the TV show is on sale since April 19.