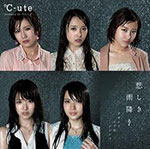 °C-ute's 22nd single Kanashiki Amefuri / Adam to Eve no Dilemma (悲しき雨降り / アダムとイブのジレンマ) will be released on July 10.
It is a double A-side single. The coupling song is different depending on the version.
The limited editions come with a bonus DVD featuring the music videos and their dance-shot or close-up versions.
Furthermore, details about °C-ute's appearances at Japan Expo 2013 were published on Up Front Link.
Regular Edition Type A
CD

Kanashiki Amefuri (悲しき雨降り)
Adam to Eve no Dilemma (アダムとイブのジレンマ)
Darenimo Naisho no Koishiteiru no (誰にも内緒の恋しているの)
Kanashiki Amefuri (悲しき雨降り) (Instrumental)
Adam to Eve no Dilemma (アダムとイブのジレンマ) (Instrumental)
Regular Edition Type B
CD

Kanashiki Amefuri (悲しき雨降り)
Adam to Eve no Dilemma (アダムとイブのジレンマ)
Attakai Ude de Tsutsunde (あったかい腕で包んで)
Kanashiki Amefuri (悲しき雨降り) (Instrumental)
Adam to Eve no Dilemma (アダムとイブのジレンマ) (Instrumental)
Limited Edition Type D
CD

Kanashiki Amefuri (悲しき雨降り)
Adam to Eve no Dilemma (アダムとイブのジレンマ)
Darenimo Naisho no Koishiteiru no (誰にも内緒の恋しているの)
Kanashiki Amefuri (悲しき雨降り) (Instrumental)
Adam to Eve no Dilemma (アダムとイブのジレンマ) (Instrumental)
Limited Edition Type A
CD

Kanashiki Amefuri (悲しき雨降り)
Adam to Eve no Dilemma (アダムとイブのジレンマ)
Darenimo Naisho no Koishiteiru no (誰にも内緒の恋しているの)
Kanashiki Amefuri (悲しき雨降り) (Instrumental)
Adam to Eve no Dilemma (アダムとイブのジレンマ) (Instrumental)
DVD (Limited Edition)

Kanashiki Amefuri (悲しき雨降り) (Music Video)
Kanashiki Amefuri (悲しき雨降り) (Dance Shot Ver.)
Limited Edition Type B
CD

Kanashiki Amefuri (悲しき雨降り)
Adam to Eve no Dilemma (アダムとイブのジレンマ)
Darenimo Naisho no Koishiteiru no (誰にも内緒の恋しているの)
Kanashiki Amefuri (悲しき雨降り) (Instrumental)
Adam to Eve no Dilemma (アダムとイブのジレンマ) (Instrumental)
DVD (Limited Edition)

Adam to Eve no Dilemma (アダムとイブのジレンマ) (Music Video)
Adam to Eve no Dilemma (アダムとイブのジレンマ) (Dance Shot Ver.)
Limited Edition Type D
CD

Kanashiki Amefuri (悲しき雨降り)
Adam to Eve no Dilemma (アダムとイブのジレンマ)
Darenimo Naisho no Koishiteiru no (誰にも内緒の恋しているの)
Kanashiki Amefuri (悲しき雨降り) (Instrumental)
Adam to Eve no Dilemma (アダムとイブのジレンマ) (Instrumental)
DVD (Limited Edition)

Kanashiki Amefuri (悲しき雨降り) (Close-up Ver.)
Adam to Eve no Dilemma (アダムとイブのジレンマ) (Close-up Ver.)
Kanashiki Amefuri (悲しき雨降り) (Another Ver.)
Adam to Eve no Dilemma (アダムとイブのジレンマ) (Special Comment Video)
Music Videos (PV)