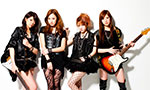 LoVendoR 1st Live Tour 2013 Ver.2 (LoVendoЯファーストライブツアー2013 Ver.2) will be held from July 11 to August 30.
12 concert dates are scheduled in various prefectures across Japan.
Furthermore, Tanaka Reina's band released its 1st mini album LoVendoR Cover the Rock (ラベンダー カバー The Rock) is on sale since May 22.
Schedule
11/07/2013 : F.A.D. Yokohama, Kanagawa
17/07/2013 : Heaven's Rock Saitama VJ-3, Saitama
22/07/2013 : Takasaki Club Fleez, Gunma
04/08/2013 : Event Hall Club G, Gifu
05/08/2013 : Kyoto Muse, Kyoto
06/08/2013 : Live House Hamamatsu Madowaku, Shizuoka
11/08/2013 : Kofu Conviction, Yamanashi
16/08/2013 : Kashiwa Palooza, Chiba
24/08/2013 : Crazymama Kingdom, Okayama
25/08/2013 : U★Stone, Shiga
29/08/2013 : Matsusaka M'Axa, Mie
30/08/2013 : Club Knot, Aichi