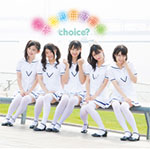 Choice? will release their new album 2nd Kyuuai Gata Muteki Sengen (2nd求愛型無敵宣言) on August 21.
It is the 2nd album from Choice?.
The CD contains a total of 10 songs including their latest singles.
The music video of the song Natsuiro Prism (夏色プリズム) has been revealed.
Furthermore, Choice? will hold a live performance on August 11 at Shinjuku Blaze and other release events in Tokyo.
Tracklist
Chouzetsu! Color Senshi! (超絶!カラー戦士!)
Anata ga Tsuita Uso (あなたがついた嘘)
Shounen ga Kanaderu Requiem (少年が奏でるレクイエム)
Kyuuai Gata Muteki Sengen ~Choice? ga Maid Dattara~ (求愛型無敵宣言 ~choice?がメイドだったら~)
Natsuiro Prism (夏色プリズム)
Aoi Tori kara no Tegami ~Merry Christmas from Blue Bird~ (青い鳥からの手紙 ~Merry Christmas from Blue Bird~)
Otomeza no Renai Un (おとめ座の恋愛運)
Koi Suru Kajitsu (恋する果実)
Loveless
Michi (道)
Music Video (PV)