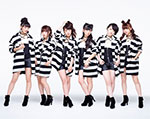 Fairies' 1st album will be released on March 26. The title hasn't been announced yet.
This 1st album Fairies includes all the singles released by Fairies since their debut 2 years and a half ago.
A video message from the members of Fairies has been released.
The CD contains a total of 13 songs including the idol group's latest singles.
It comes with either a Blu-ray / DVD featuring 11 video clips or a 40-page deluxe photo booklet.
In addition, special live performances for the fans who have bought this album will be held on April 27 at Zepp DiverCity in Tokyo. In order to attend this event, you have to order a special package including the live ticket at Loppi between January 23 and March 16.
Furthermore, Fairies' 7th single Run with U will be on sale on February 19. The MV has been posted.
Tracklist
CD

Hikari no Hate ni (光の果てに)
White Angel
More Kiss
Song for You
Beat Generation
No More Distance
Hero
Sparkle
Tweet Dream
Sweet Jewel
Run With U
Poker Face feat. Momoka
Blu-ray / DVD

More Kiss (Music Video)
Song for You (Music Video)
Hero (Music Video)
Sweet Jewel (Music Video)
Beat Generation (Music Video)
No More Distance (Music Video)
Tweet Dream (Music Video)
Sparkle (Music Video)
White Angel (Music Video)
Hikari no Hate ni (光の果てに) (Music Video)
Run With U (Music Video)
Video