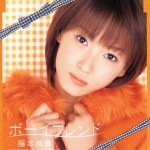 Boyfriend (ボーイフレンド) is the 4th single released by Fujimoto Miki (Shoji Miki – 庄司美貴) on November 7th, 2002.
Mikitty was born on February 26, 1985 and she is an idol / singer signed under J.P Room. Fujimoto Miki is a former member of Morning Musume (モーニング娘。) and soloist artist discovered at the time of the 4th generation auditions Morning Musume 3rd Tsuika Audition in 2000.
The length of the song is 4:57 and it reached #4 on the Oricon chart. Also the single sold 54,956 copies overall.
Track list
Boyfriend (ボーイフレンド)
Osananajimi (幼なじみ)
Boyfriend (Instrumental)
Music Video (PV)
Comments
"Favourite Fujimoto Miki single"
"Super!"