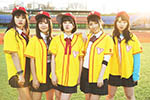 Ganbare! Victory (がんばれ!Victory) is a Japanese femal rock band and idol group (bandol).
They perform rock songs inspired by the 1970s and the 1980s.
The band currently consists of 5 members.
Biography / History
Ganbare! Victory's themes are "Zettai Nama Oto Shugi" (絶対生音主義) meaning that they hold regular live performances, and "Heisei Old Rock" (平成オールドロック) which refers to the 70s – 80s rock music.
Their activities are mainly located in Tokyo.
The idol unit was formed when the girls were 6th grade students at elementary school. (Note : in Japan, middle school starts at the 7th grade). Their original name was Victory.
Minami was in the same class as Madoka (Tancobuchin).
Ganbare! Victory received the Grand Prize at the Karatsu Junior Music Festival (唐津ジュニア音楽祭) in February 2008.
They won at the Teens Rock in Hitachinaka in July 2011.
They are the youngest artists to have performed at Rock in Japan festival in August 2011.
Ganbare! Victory's debut single Niji was released under Kiss Music label in November 2011.
They won the Grand Prize at the Tokyo MX girls band audition Milky Bunny 2700 in April 2013.
The idol group released its 1st mini-album KGSD in January 2014.
The girls graduated from high school and moved to Tokyo in March 2014.
The band signed under Pony Canyon label in December 2014.
They held their 100th live peformance in December 2014.
Ganbare! Victory's major debut single Zenryoku! Start / Yume wo Tsuzuki (全力!スタート / 夢のつづき) went on sale in May 2015. It is a double A-side.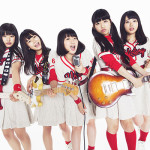 The members have been appointed PR ambassadors for the 100th anniversary of the Lions Yellow Series (ライオンズ イエロー シリーズ) in July 2015. They are participated in various missions such as distributing 20000 flyers in front ot the Prince Dome before the baseball games of the Saitama Seibu Lions, cheering the team…
The show がんばれ!Victory~○○○への道~ is broadcast on Thursdays at 21:00 (JST) on Nico Nico from July to September 2015.
The song Dear is the tie-up for the Yukata Collection 2015 commercial by Apita and Piago. It is the B-side track of the single Lalilalila (ラリラリラ) on sale in September 2015.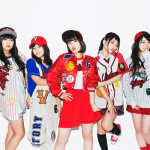 Some famous retired baseball players made cameo appearances in their music videos.
In January 2016, Ganbare! Victory collaborated with manga artist Ishii Hisaichi. Gag comics character Tabuchi-kun (タブチくん) appears in the MV for Seishun! Hero (青春!ヒーロー).
The girls host a regular segment on the radio show E∞Tracks Selection on FM Osaka since January 2016.
Ganbare! Victory's 1st major album Juudai Happyou (十代発表), on sale in March 2016, includes the song 3 3 7 Hyoushi (三三七拍子). It marked a new stage in the history of the bandol since all the members were 20 years old.
Profile
Ganbare! Victory (がんばれ!Victory)
Years active : 2007 – present
Label : Pony Canyon
Agency : Asia Promotion
Members
Ayaki (あやき) / Imoto Ayaki (井本文稀) – Vocal
Rena (れな) / Tokuhisa Rena (徳久礼奈) – Guitar
Mayuko (まゆこ) / Yoshida Mayuko (吉田麻佑子) – Drum
Shinobu (しのぶ) / Ito Shinobu (伊藤忍) – Bass
Minami (みなみ) / Yoshida Minami (吉田南美) – Guitar
Discography
Singles
25/11/2011 : Niji
17/08/2012 : Home
26/11/2014 : Fly High!! (ふらいはい!!)
20/05/2015 : Zenryoku! Start / Yume wo Tsuzuki (全力!スタート / 夢のつづき)
02/09/2015 : Lalilalila (ラリラリラ ; Rarirarira)
27/01/2016 : Seishun! Hero (青春!ヒーロー)
Mini-Albums
Albums
16/03/2016 : Juudai Happyou (

十代発表)
Links
News