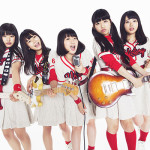 Ganbare! Victory's 2nd major single Lalilalila (ラリラリラ , Rarirarira) will be released on September 2.
The coupling song Dear is the tie-up for the Yukata Collection 2015 commercial by Apita and Piago. Check out the video below.
There are 7 editions including one for each member of the idol group. The solo editions include a 3rd demo song whose lyrics were written by Ayaki, Rena, Mayuko, Shinobu or Minami.
The single comes with a ticket for attending an event.
Furthermore, the members of Ganbare! Victory have been appointed PR ambassadors for the 100th anniversary of the Lions Yellow Series (ライオンズ イエロー シリーズ). In July and August, they are participating in various missions such as distributing 20000 flyers in front ot the Prince Dome before the baseball games of the Saitama Seibu Lions, cheering the team…
The show がんばれ!Victory~○○○への道~ is going to be broadcast on Thursdays at 21:00 (JST) on Nico Nico from July 23 to September 10.
The female band will hold live performances on September 5 in Osaka, on September 6 in Nagoya, on September 12 in Tokyo, and on October 11 in Saga.
Tracklist
Regular and Limited Editions

CD

Lalilalila (ラリラリラ)
Dear
Lalilalila (Off vocal)
Dear (Off vocal)

DVD

Lalilalila (Music Video)
Member Editions

CD

Lalilalila
Dear
Demo Song (デモ曲)
Music Video (PV)