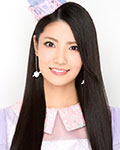 Kuramochi Asuka announced her graduation from AKB48.
Her graduation live performance and ceremony are going to be held on August 17.
Kuramochi Asuka revealed this news in article published in Sankei Sports (Sanspo) newspaper on July 19.
Mocchii has also written a message on her blog to confirm that.
She explained that she wants to pursue her career as a sportscaster. Her dream is to cover the Tokyo 2020 Olympic Games.
Kuramochi Asuka joined AKB48 as a 4th generation member in 2007. She is the Team B captain. She is 25 years old.
Her 1st photobook Mimitabu (耳たぶ) was published in September 2013. Check out some pictures below.
Mocchii's debut solo single Itsumo Soba ni (いつもそばに) was released in May 2013.