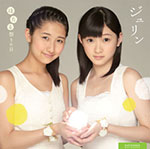 Hello! Project announced the creation of a new unit titled Jurin (ジュリン).
This idol unit consists of Sato Masaki (Morning Musume) and Miyamoto Karin (Juice=Juice).
Jurin is part of Satoyama Movement along with Peaberry, Green Fields, Harvest, DIY♡, and Tasaki Asahi.
Moreover, Jurin will release their 1st DVD single Hotaru Matsuri no Hi (ほたる祭りの日) on September 4.
They will also perform at Hello! Project 2013 Summer Cool Hello.
Tracklist
Hotaru Matsuri no Hi (ほたる祭りの日) (Music Video)
Hotaru Matsuri no Hi (ほたる祭りの日) (Kinoto Version)
Hotaru Matsuri no Hi (ほたる祭りの日) (Karaoke Version)
Hotaru Matsuri no Hi (ほたる祭りの日) (Making of)
Music Video (PV)