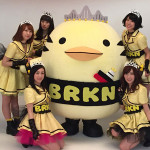 Hime Kyun Fruit Can's new single Ano Sakamichi wo Sakeagare! (あの坂道を駆け上がれ!) will be released on December 2.
This is their 2nd single as Barikyun (BRKN), a special collaboration unit consisting of Hime Kyun Fruit Can and Bary-san the mascot of Imabari city in Ehime prefecture.
Check out the MV.
In the video, the members of the idol group and the mascot have fun in famous places of Ehime prefecture such as Gintengai shopping street, Mastuyama castle, Dogo Onsen. They also dance and wave scarves with young pupils in an elementary school.
The B-side track Boku to Kimi wo Tsunagu Sora is a collaboration song for Colors published in Ciao (ちゃお) shojo manga magazine.
Tracklist
Regular ver.

CD

Ano Sakamichi wo Sakeagare! (あの坂道を駆け上がれ!)
Boku to Kimi wo Tsunagu Sora (ボクとキミをつなぐ空)
Mofu Mofu ga Futtekita (モフモフが降ってきた)
Ano Sakamichi wo Sakeagare! (Instrumental)
Boku to Kimi wo Tsunagu Sora (Instrumental)
Limited ver.

CD

Ano Sakamichi wo Sakeagare!
Boku to Kimi wo Tsunagu Sora
Kira Kira Shita Ashita e (キラキラした明日へ)
Ano Sakamichi wo Sakeagare! (Instrumental)
Boku to Kimi wo Tsunagu Sora (Instrumental)

DVD

Ano Sakamichi wo Sakeagare! (MV)
Making-of
Music Video (PV)