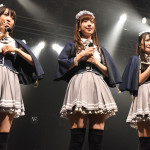 Louise Sforzur, Yukafin Doll,  Ayami Chercy Snow announced their graduation from Afilia Saga.
The 3 girls will leave the idol group next year.
Ayami's last live performance will be held on February 5, 2016 at Akasaka Blitz, Tokyo.
Yukafin Doll said that they are going to do their best until the end to have fun and be grateful to their fans.
After her graduation, Louise Sforzur would like to continue to work with Afilia Saga by helping the members behind the scenes. She has a huge experience because she has been active for 7 years.
Moreover, new members will join Afilia Saga at the end of the year. They will be introduced during the next concert of the idol group on December 23 at Shinjuku Reny.