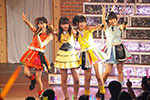 HKT48's 3rd single will be released on March 12. The title is Sakura, Minna de Tabeta (桜、みんなで食べた).
The announcement was made by Sashihara Rino on January 19  held at Kagoshima.
In addition, Yamamoto Mao made her debut with the idol group during this live performance. She joined HKT48 Team H in November after the 1st AKB48 Group Draft Kaigi (AKB48グループドラフト会議).
For her first appearance, Yamamoto Mao performed as the center on the song Nagisa no Cherry (渚のCherry).
Furthermore, HKT48 started the concert by performing The Peace! (ザ☆ピ~ス!) from Morning Musume. Miyawaki Sakura sung Warukii (わるきー) from NMB48's Watanabe Miyuki in solo.
Check out some photos of the event below.