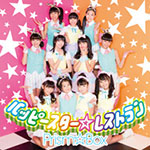 Prism☆Box will release their new single Happy Star Restaurant (ハッピースター☆レストラン) on February 26.
Prism☆Box is a special idol unit consisting of 11 members from Prizmmy☆ and Prism Mates (プリズム☆メイツ). The result is a mix between the charisma of Prizmmy☆ and the energy of Prism Mates.
The MV has been released.
This song is the 4th ending theme for the anime Pretty Rhythm: Rainbow Live (プリティーリズム・レインボーライブ) airing on TX Network (TV Tokyo…).
This is the 2nd single from Prism☆Box. Only one edition is available.
It includes a bonus DVD with various versions of the MV.
Tracklist
CD

Happy Star Restaurant (ハッピースター☆レストラン)
?? (タイトル未定)
Happy Star Restaurant (ハッピースター☆レストラン) (Instrumental)
?? (タイトル未定) (Instrumental)
DVD

Happy Star Restaurant (ハッピースター☆レストラン) (Music Video)
Happy Star Restaurant (ハッピースター☆レストラン) (TV-size ver.)
Happy Star Restaurant (ハッピースター☆レストラン) (Dance Master ver.)
Music Video (PV)