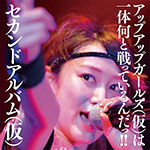 Up Up Girls (Kari) will release Second Album (Kari) (セカンドアルバム(仮)) on February 19.
As its title suggests, this is the 2nd album from Up Up Girls (Kari). 2 versions are available. It includes the latest singles from the idol group.
Videos of each member of Up Up Girls (Kari) discovering the CD covers have been released.

The limited edition comes with a bonus disc including remixed songs by various artists.
Furthermore, Up Up Girls (Kari) 1st Nationwide Tour (アップアップガールズ(仮)1st全国ツアー) will be held from March 21 to May 25, 2014.
Tracklist
CD 1

Ginga Joujou Monogatari (銀河上々物語)
Samurai Girls
Chopper Chopper (チョッパー☆チョッパー)
Survival Girls (サバイバルガールズ)
RespecTokyo (リスペクトーキョー)
Burn the Fire!!
Sutorera! ~Straight Up~ (ストレラ!~Straight Up!~)
Sakura Drive
Starry Night
Waidoru Seven (ワイドルセブン)
Seishun Build Up (青春ビルドアップ)
Up Up Typhoon (アップアップタイフーン)
Next Stage
Ano Saka no Ue Made (あの坂の上まで)
Summer Beam! (サマービーム!)
CD 2 (Limited Edition)

Cherry to Milk (チェリーとミルク)
Kakko Tsukete Ii Desho! (カッコつけていいでしょ!)
Santa Claus (サンタクロース)
Up Ome!! ~UpGa no Oshougatsu Dayo Zenin Shuugou~(アプオメっ!!~アプガのお正月だょ 全員集合!~)
Chopper Chopper (チョッパー☆チョッパー) (PandaBoY Remix)
RespecTokyo (リスペクトーキョー) (Tanuki Remix)
Samurai Girls (★Star Guitar Remix)
Waidoru Seven (ワイドルセブン) (y0c1e Remix)
Starry Night (Sekitova & Shu Okuyama Remix)
Sutorera! ~Staright Up!~ (ストレラ!~Straight Up!~) (fu_mou Remix)