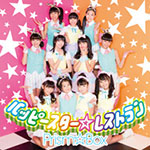 Prism☆Box will release their new single Happy Star Restaurant (ハッピースター☆レストラン) on February 26.
Prism☆Box is a special idol unit consisting of 11 members from Prizmmy☆ and Prism Mates (プリズム☆メイツ). The result is a mix between the charisma of Prizmmy☆ and the energy of Prism Mates.
The MV has been released.