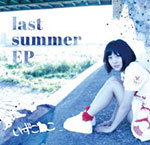 Izukoneko's new single Last Summer EP will be released on November 23.
The CD contains 5 songs and their instrumental versions.
Moreover, Izukoneko will hold her 2nd one-man live Neko to Kemuri to Akai Curtain (猫と煙と赤いカーテン) with a band on November 4 in Tokyo, and the solo stage Neko to Kemuri to Ao (猫と煙と青) on November 23 in Osaka.
Tracklist
BluE
e.c.l.s
squall cut
e.c.i.n (Remastering Ver.)
straight -Usyn Remix-
BluE (Instrumental)
e.c.l.s (Instrumental)
squall cut (Instrumental)
e.c.i.n (Instrumental)