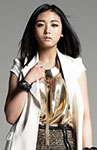 Mizuno Erina announced her withdrawal from Flower and E-Girls.
She is currently the leader of Flower.
Mizuno Erina decided to leave both groups in order to focus on her activities as an actress.
However, she will participate in the event Dance Earth organized by LDH in May 2014.
Furthermore, E-Girls' new single Gomen Nasai no Kissing You (ごめんなさいのKissing You) is on sale since October 2.