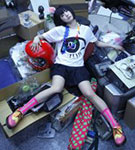 Izukoneko (いずこねこ) is a Japanese idol.
She was born on November 9, 1994 in Mie Prefecture in Kansai.
Her real name is Mizuta Mari.
She loves cats, cosplay and anime.
Izukoneko debuted her solo career in 2011.
Izukoneko 2nd one-man Live Neko to Kemuri to Akai Curtain (猫と煙と赤いカーテン) was held in November 2013 at Tokyo Kinema Club.
In March 2014, she temporarily stopped her activities after an altercation with her producer Sakurai Kenta.
In April 2014, a project was launched on the crowdfunding platform Camp Fire to produce the movie Sekai no Owari no Izukoneko (世界の終わりのいずこねこ) in which she is playing the leading role.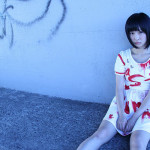 In July 2014, Mizuta Mari formed the idol group Pla2me (プラニメ) along with Kamiya Saki (BiS).
Izukoneko stopped her solo activities in August 2014.
She was main character of a manga by Nishijima Daisuke. This manga series is titled Sekai no Owari no Izukoneko (世界の終わりのいずこねこ). 5 episodes were published on the internet.
Mizuta Mari left Pla2me at the end of May 2015 due to artistic differences with Kamiya Saki.
Profile
Izukoneko (いずこねこ)
Birthdate : 09/11/1994
Birthplace : Mie Prefecture
Years active : 2011 – present
Label : –
Agency : –
Discography
Singles
Jupiter Girl
Rainy Irony
23/01/2013 : Room EP
23/11/2013 : Last Summer EP
Albums
05/09/2012 : Saigo no Neko Koujou (最後の猫工場)
Live Albums
03/04/2013 : Namiete (なみえて)
Links
News