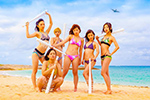 BiS (Brand-new Idol Society) is a Japanese idol group formed in November 2010.
It consists of 6 members.
Biography / History
The group was created by the current leader Pour Lui when she decided to stop her solo activites.
They made their major debut in July 2012.
In 2012, Pour Lui, Hirano Nozomi and Terashima Yufu played the leading roles in the action horror movie Idol Is Dead (アイドル・イズ・デッド).
During the same year, they formed the special unit BiS Kaidan in collaboration with the noisy group Hijokaidan (非常階段)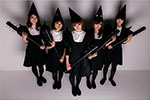 In January 2013, BiS and Dorothy Little Happy released the collaboration single Get You.
In the spring of 2013, Wakisaka Yurika and Terashima Yufu announced their graduation. 3 new members passed the audition to join the unit : Kamiya Saki, Tentenko, and First Summer Uika.
In September 2013, Michibayashi Rio withdrew from the idol group. A few weeks later, fashion designer Junko Koshino and Koshoji Megumi joined BiS. However Junko Koshino is only a life-long honorary member.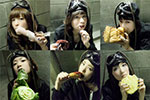 BiS and Dempagumi.inc released the collaboration single Denden Passion / Idol (でんでんぱっしょん / Idol) in October 2013. It was on sale exclusively at live venues.
In December 2013, the members of BiS posed nude for the magazine Quick Japan.
The movie Idol Is Dead – Non-Chan no Propaganda Dai Sensou – (アイドル・イズ・デッド -ノンちゃんのプロパガンダ大戦争) starring Pour Lui, Hirano Nozomi, Terashima Yufu, and Michibayashi Rio was released in January 2014. This is the episode 2 of the story.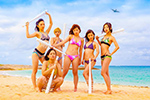 Their last single Final Dance / nerve was released in May 2014.
BiS disbanded on July 8, 2014 after their last live BiS Nari no Budokan (BiSなりの武道館) at Yokohama Arena.
In July 2014, Kamiya Saki formed the idol group Pla2me (プラニメ) along with Mizuta Mari (Izukoneko).
In September 2014, Koshoji Megumi appeared in a MV for Oomori Seiko's major debut single.
Pour Lui continued her activities with Lui Frontic◇Matsukuma Japan which was formed in March 2014.
In November 2014, Koshoji Megumi formed the idol unit Maison Book Girl with Miss iD members.
Tentenko pursues her career as a DJ.
The movie BiS Cannonball 2014 (BiSキャノンボール2014) was released in theaters in February 2015 in Japan. It is a documentary on the graduation of all members.
Profile
BiS (Brand-new Idol Society) (ビス、新生アイドル研究会)
Years active : 2010 – 2014
Label : Avex Trax
Agency : –
Members
Pour Lui (プー・ルイ)
Hirano Nozomi (ヒラノノゾミ)
Kamiya Saki (カミヤサキ)
Tentenko (テンテンコ)
First Summer Uika (ファーストサマーウイカ)
Koshoji Megumi (コショージメグミ)
Former Members
Nakayama Yukiko (ナカヤマユキコ)
Yokoyama Rina (ヨコヤマリナ)
Wakisaka Yurika (ワキサカユリカ)
Terashima Yufu (テラシマユフ)
Michibayashi Rio (ミチバヤシリオ)
Honorary Member
Discography
Singles
03/08/2011 : My Ixxx
19/10/2011 : Nerve
21/12/2011 : Primal
11/04/2012 : Idol
18/07/2012 : PPCC
13/03/2013 : BiSimulation
26/06/2013 : DiE
18/09/2013 : Fly / Hi
22/01/2014 : STUPiG
28/05/2014 : FiNAL DANCE / nerve
Digital Singles
Collaboration Singles
09/01/2013 : Get You (BiS × Dorothy Little Happy)
12/10/2013 : Denden Passion / Idol (でんでんぱっしょん/ Idol) (BiS × Dempagumi.inc)
Albums
23/03/2011 : Brand-new Idol Society
24/10/2012 : Idol Is Dead
05/03/2014 : Who Killed Idol?
02/07/2014 : Uryaoi (うりゃおい)
Mini-Albums
26/09/2012 : Bisukete (びすけて)
Links
News