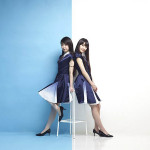 Dorothy Little Happy is a Japanese idol group formed in July 2010.
It currently consists of 2 members.
The leader is Shirato Kana.
The idol unit is based in Sendai in Miyagi prefecture.
The name of the group refers to Dorothy from The Wonderful Wizard of Oz.
Biography / History
In July 2010, the original members were Shirato Kana, Takahashi Mari, Suzuki Michiyo, Akimoto Ruuna and Tominaga Mimori. They were previously par of B♭ (B Flat).
Dorothy Little Happy released their debut single Jump! (ジャンプ!) in August 2010.
Suzuki Michiyo graduated in November 2010 in order to focus on her studies. She was one of the 2 main vocalists along with Takahashi Mari.
As a result, Hayasaka Koumi was selected among the backup dancers to join the idol group in November 2010.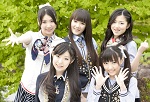 Dorothy Little Happy held their 1st live performance Demo Sayonara (デモサヨナラ) in January 2011 at Daikanyama Unit in Tokyo.
The idol group announced its major debut in February 2011. The girls were transferred from BounDEE to Avex Trax.
The release of their mini-album Demo Sayonara (デモサヨナラ) was scheduled in March 2011. The promotional events were postponed due to the Tohoku earthquake and tsunami. The members participated in various charity activities to bring their support to people in disaster areas.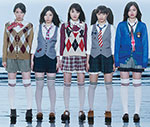 The girls hosted the radio shows Dorothy Little Happy no Jump! (ドロシーリトルハッピーのジャンプ!) on TBC Radio in 2011, and Happy Night on FM Nack5 in 2012.
Their TV variety show Dorothy no Little Happy Days! (ドロシーのリトルHappy Days!) started airing on Pigoo HD in April 2012.
Their photobook Mori no Miyako no Dorothy (杜の都のドロシー) went on sale in December 2012.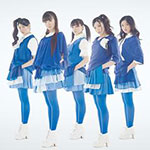 Dorothy Little Happy participated in Kawaii Pop Fes in Hong Kong in May 2013, in Taiwan in January 2014, and still in Hong Kong in June 2014. They held live performances on stage along with other idol groups.
Takahashi Mari formed the duo Yufu♬Mari (ユフ♬マリ) with former BiS member Terashima Yufu. The idol unit is active for a limited period of time between May and August 2014 to promote @Jam events. They are going to release the single Hotaru in July 2014.
In December 2014, Hayasaka Koumi missed some live performances due to influenza.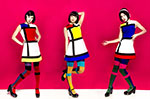 The sub-unit Callme was created in early 2015. It consists of Mimori, Ruuna and Koumi.
In April 2015, Takahashi Mari, Tominaga Mimori (Dorothy Little Happy), Murakami Rana, Minamiguchi Nana (GEM), Nagao Mami, Moriya Sakura (X21) formed the special unit Magical Dreamin (マジカル☆どりーみん) to perform the opening theme song for the anime Jewel Pet Magical Change (ジュエルペット マジカルチェンジ).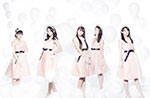 Akimoto Ruuna, Tominaga Mimori, Hayasaka Koumi announced their graduation and pursued their activities until July 2015.
The special idol group AnMiRan (晏美蘭) was created for @Jam Expo 2015. It comprises Tominaga Mimori, Kobayashi Anyu (Tokyo Performance Doll) and Mizorogi Seran (Cheeky Parade). It will be active for a limited period of time from May to August 2015.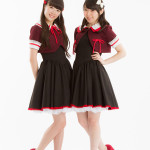 Dorothy Little Happy were transferred to Universal Gear label in October 2015.
As its title suggests, the single Restart, on sale in December 2015, marked a new step for the idol group.
The girls will participate in the Honolulu Half-Marathon 2016 (ホノルルハーフマラソン・ハパルア) in Hawaii in April.
The single Bicolor no Koigokoro (バイカラーの恋心) is going to be released in May 2016.
Related article :
Profile
Dorothy Little Happy (ドロシーリトルハッピー)
Years active : 2010 – present
Label : Avex Trax
Agency : Step One
Members
Shirato Kana (白戸佳奈)
Takahashi Mari (高橋麻里)
Former Members
Suzuki Michiyo (鈴木美知代)
Akimoto Ruuna (秋元瑠海)
Tominaga Mimori (富永美杜)
Hayasaka Koumi (早坂香美)
Discography
Singles
04/08/2010 : Jump! (ジャンプ!)
01/12/2010 : Fuyu no Sakura ~Winter Flower~ (冬の桜 ~Winter Flower~)
11/01/2012 : Happy Days!
11/07/2012 : Tobidase! Summer Time (飛び出せ!サマータイム)
05/12/2012 : Kaze yo Hayaku (風よはやく)
12/06/2013 : Colorful Life
16/10/2013 : Asian Stone
26/02/2014 : Starting Over
16/07/2014 : Sky Traveler
20/05/2015 : Tell Me Tell Me!!
16/12/2015 : Restart
25/05/2016 : Bicolor no Koigokoro (バイカラーの恋心)
Other Singles
09/01/2013 : Get You (BiS & Dorothy Little Happy)
Albums
16/03/2011 : Demo Sayonara (デモサヨナラ)
11/01/2012 : Demo Sayonara 2012 (デモサヨナラ2012)
20/02/2013 : Life Goes On
Mini-Albums
24/12/2014 : Circle of the World
Best-of Albums

01/04/2015 : The Best of Dorothy Little Happy 2010-2015
Links
News