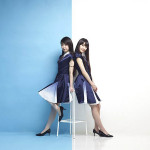 Dorothy Little Happy's new single Bicolor no Koigokoro (バイカラーの恋心) will be released on May 25th.
The song is available for trial listening on YouTube for a limited period of time.
The lyrics of Bicolor no Koigokoro were written by Iwasato Yuho. The music was composed by Tanaka Shunsuke and arranged by Nishioka Kazuya.
According to Dorothy Little Happy member Shirato Kana, it is a fresh and cute song about love for the summer.
The artwork was designed by Signo. As the title suggests, 2 colors are used : blue and white.
6 editions will be on sale.
Tracklist
CD

 Bicolor no Koigokoro (バイカラーの恋心)
Music Video (PV)